The tour starts with the pickup at your hotel in San Jose City. We will bring you to the place of our tour, which is located far from the city.
The tour guides will receive you a warming welcome and will explain to you about the operation of the complete activity.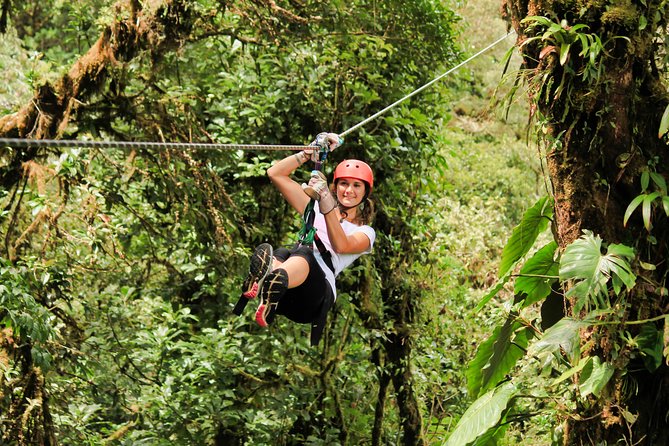 The adventure begins with the canopy zipline. We will do a total of 13 platforms and 8 zip lines, all at the middle of the rainforest. You will also enjoy a breathtaking guided walk through the rainforest to observe animals such as monkeys, sloths, toucans, hummingbirds, and others. There you would find some majestic waterfalls that are hidden in the forest.
After the adventure in the rainforest, we will do the fabulous Coffee Tour. This part of the tour will be led by true experts on the history from our country and coffee. During the tour you will learn about how these plants are grown, how to collect the beans using the traditional baskets, and how the fruits are processed to obtain the best possible coffee quality.
At the end of the tour we will bring you to the store and factory, where you can taste some delicious chocolates, seeds, and a wide variety of delicious coffee flavors.
Finally, we will enjoy a delicious typical lunch prepared by Costa Rican chefs, using 100% typical recipes from our country.
DURATION: 6 hrs
INCLUDE: Naturalist guide, transportation, lunch and drinks
PRICE: US $135 per person.
PICK UP: 10:00 am
RECOMMENDATIONS: Hiking shoes, binoculars, sunscreen and water